Nova the Bulldog mix is a playful 7-year-old girl who loves to roll around on the grass and explore her surroundings.
But she's been homeless for six months, and despite the regular walks around town, Nova spends most of her time in a corner room at the Animal Services Center in San Martin, along with an alarming number of other dogs hoping to join a family.
The shelter has been operating at over capacity for dogs since March 2022, said Program Manager Lisa Jenkins, and there doesn't appear to be an end in sight.
"We've been putting dogs here, there and everywhere, trying to weather the storm," she said. "But what's becoming evident is there's no relief coming. It's actually getting worse."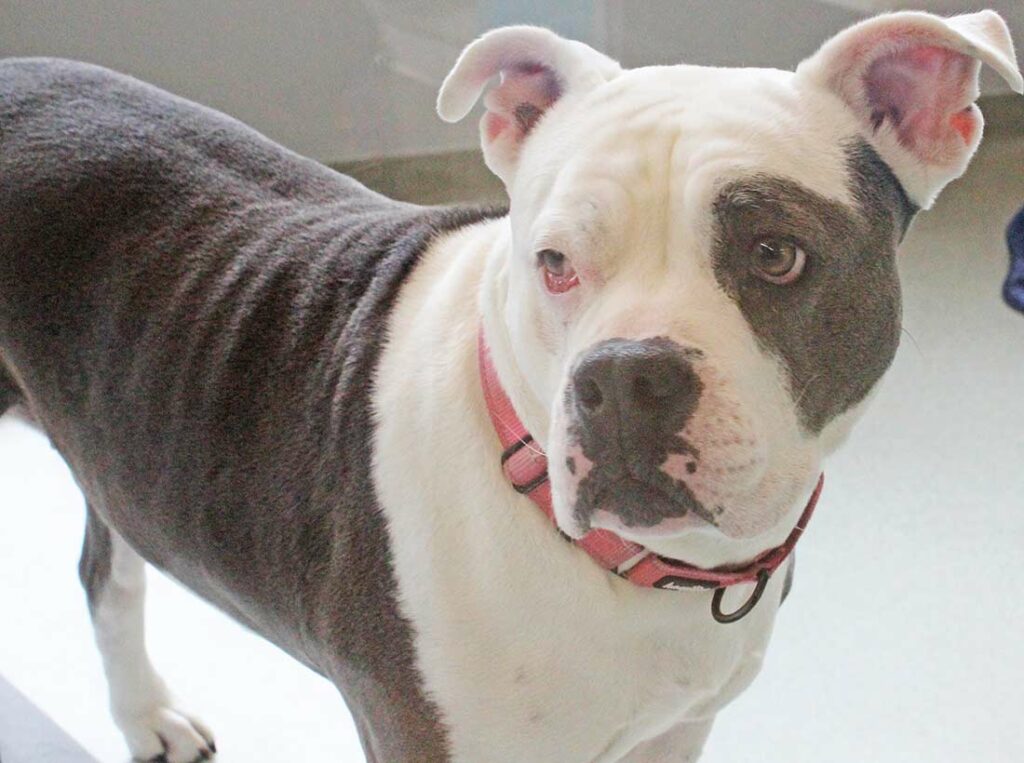 Shelter staff have put out an urgent plea to the public to adopt these dogs or foster them temporarily. But as the situation worsens, the designated "no-kill" shelter is faced with a sobering fact: euthanasia is a very real possibility for their four-legged friends.
Jenkins said the shelter, which opened in 2021, has 42 dog kennels. However, it is currently housing a little more than 50, and at times that number was in the 70s.
Despite the numbers, the shelter still maintains a 95% live release rate, according to Jenkins, and euthanized less in 2022 than in 2021, despite taking in 400 more dogs.
But there have been many days when the center has taken in 8-10 dogs, while only adopting out one, a trend that is not sustainable.
"'No-kill' only works as long as people are adopting," she said. "It's a very urgent issue."
Full shelters are not just a problem in Santa Clara County. It's a situation that has reached a crisis nationwide.
The number of dogs arriving at shelters rose 10.1% from January to September 2022 compared with the same period in 2021, according to Best Friends Network, a nonprofit comprised of shelters and animal welfare organizations in all 50 states.
One shelter in Atlanta reported 300 dogs in its care, despite having room for only 80.
It's hard to pinpoint one reason for such a dramatic rise in numbers, Jenkins said. The Covid-19 pandemic certainly played a factor, as those sheltering in place who adopted a dog to keep them company have now returned to the office and can no longer care for their animal.
In addition, the demand for dogs during the pandemic created a booming backyard breeder market that is now having a difficult time finding homes for puppies.
Jenkins added that many people have surrendered their dogs to the shelter due to changes in their living situations, as they may not be allowed to own a large dog in a rental unit.
Many low-cost spay and neuter programs have also ceased since the pandemic, and Jenkins said the shelter, which currently has veterinarian vacancies, is struggling to keep up with the procedures due to the influx of dogs.
The larger dog breeds, such as German Shepherds, Huskies and Pit Bulls, are those that are being sheltered the longest, while smaller dogs, along with cats and rabbits, are having no problems with adoption numbers, according to Jenkins.
Those dogs that spend months in the shelter begin to exhibit a change in demeanor. But for many, as soon as they step outside, their joyful personalities come rushing back, she said.
"The longer they stay here, the worse it is," Jenkins said. "They start to deteriorate. No dog is meant to be housed this way."
Jenkins urged those looking to adopt a dog to stop by the Animal Services Center at 12425 Monterey Road in San Martin, adding that the shelter will waive fees when it is over capacity. Fosters are also especially needed for large breed dogs.
For information, and to check out the list of adoptable dogs that is updated hourly, visit animalservices.sccgov.org. The shelter can also be reached at 408.686.3900 and [email protected].